Walkabout is a popular name given to the ability of walking around playable ships during free roam and missions. But Vstep know it as Walkthrough. You can enter walkabout mode by pressing "3" on the keyboard. Parts of some ships are not walkable, and some ships are not walkable at all. These ships are mostly the smaller ones such as the powerboat and the jetski, as they have nowhere to walk. Some ships such as the Hovercraft Freedom 90 for example, the only walkable place is the inside cabin and no exterior.
Ship Simulator 2006 (and add-on)
Edit
The only ship available for walkabout on Ship Simulator 2006 is Titanic. However in its add-on, all ships gain the ability to walkabout.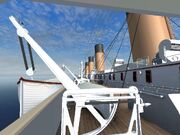 Ship Simulator 2008
Edit
Walkabout was given to all ships in Ship simulator 2008, except the Powerboat, Ducky and Jetski for obvious reasons (there wasn't anywhere to walkabout) and the Titanic walkabout was extended. The Harbour Tug's walkthrough mode is unfortunately not working properly. You can only walk around on her if you first go into walkthrough mode on another player ship, and then switch to the Tug. You will then spawn in Walkaround mode on the Tug.
Walkabout is the name known for a Aboriginal tradition. Young Australian desert wanderers should take a long journey before achieving manhood. James Vance Marshall wrote a book on this subject named "Walkabout" where two children survive a plane crash and meet a desert boy who tries hard to help them and then dies of cold. A film of the book was also created with a different moral. While the Aboriginal tried to help them, the children meet a white man (finally) who sends them to the scrapyard to search for food.