Wachthaven III
ship type:
Inland Cargo vessel
Facts:
Full name:
Wachthaven III
Rank Meter:
Type:
Motor
Port of Registery:
Rotterdam
Operating Company:
Vstep
Vessel class:
Player
Specifications
Draft:
2.50m
Top Speed:
13 knots
Length:
92.52m
Width:
11.08m
Appearances
Appearances:
The Shipyard

Wachthaven III (or Inland Containership in SS06) is a player/active vessel which made its first appearance as an active playable vessel in Ship Simulator 2006. It was then adapted by the Creators forum for Ship Simulator 2008, in a super pack which included missions for it along with a name (previously known as Inland Containership) and also a port of registry (Germany.) The top speed is around 13 knots. In Ship Simulator 2008, Wachthaven III has a walkabout system.
Inland Containership
Edit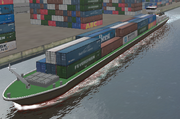 As mentioned above, Wachthaven made its first appearance in Ship Simulator 2006. It was unknown what its name or port of registry were, but these later became clear in the 2008 version. It is one of the two Inland cargo boats which appear in SS2006, the other being the
Inland Cargo vessel
. The top speed as around 13 knots.
Wachthaven III
Edit
In early 2010, the Creators Forum continued their weekly add-on packs for the shipyard by making the Inland Containership compatible with Ship Simulator 2008. Unlike most of the other free ships, Wachthaven III came with the unique Walkabout Mode. Only the wheelhouse and the stern may be accessed in this mode.
Wachthaven III is the only playable Inland Cargo tanker in game, although many other AI tankers are visible in many environments.
On some English versons of Ship Simulator 2008, the ships name in game can sometimes be: Error: Not found language_ID:2257. This is a language error, which also alters the description. This is also possible for the Selsey II and Selsey I
The 4m waves seem to be too strong for the Wachthaven III which is a relatively big vessel and reacts more strongly then it should. This may be a coding error, or simply due to the Wachthavens low hull.
Wachthaven has bow thrusters