The Ship Simulator 2008 Elbe & Furie edition was a Dutch only add-on pack which added two new vessels to the original game. The Elbe and the Furie are both Dutch Classical Tugs and are based in Maassluis, The Netherlands. The two vessels were created by SimonDR, an experienced Virtual Sailor & Ship Simulator 3D Model Artist and the Add-On pack was released by VSTEP. The Pack can be bought from the Dutch Elbe website for €14.99. The money raised from the back goes towards the maintenance of the Furie and Elbe.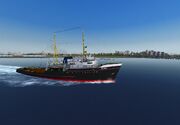 The Pack only works with Dutch versions of the game, and if installed with the English, French or German versions, can cause problems such as change of language on the menu/mission screens.
Both vessels have been released in The Shipyard for users of any language to purchase. Elbe and Furie are €4.99 each in the Shipyard.