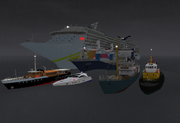 Ship Simulator 2006 add-on, or the Ship Simulator Official add-on, is an expansion pack to Ship Simulator 2006. It can also be used to get Ship Simulator 2008 add-on1, which gives you the ability to download all six ships included. Ship Simulator official add-on requires a valid installation of Ship Simulator 2006 to run.
Lighthouse interactive announced plans to produce a new add-on for Ship Sim 2006 in Winter 2006, November 29th. It was released in February 2007 with six ships which could be used in new missions. It also included a "walkabout" mode for all the ships in the game and the add-on, apart from Titanic which already had the ability of walkabout.
On October 16, Ship Simulator 2006 was used to make ship simulator 2008 add-on1 as promised before. Add-on1 includes all six ships from the Official Add-on and could be downloaded by registering both ship simulator 2008 and ship simulator official add-on license keys into forum profile. shes a bitch
The six ships that are included were:
Cruise ship Ocean Star, Russian Tug, Luxury Yacht, Fishing vessel, Northern Star, Classic historical yacht, Multi-purpose Cargo vessel, Agile Solution
System Requirements
Edit
Operating System: Windows 2000, Windows XP, Windows Vista
---
Processor: Pentium 4 2.0GHz/AMD equivalent
---
Memory: 1GB
---
Needs Ship Simulator 2006 to run
---
Graphics card: NVIDIA GeForce 5600/ATI Radeon X6000
---
Audio: A sound card
---
Controllers: Mouse (with a scroll wheel) or a Joystick, Joypad or Computer steering wheel.