Ocean Star
ship type:
Cruise Ship
Facts:
Full name:
MS Ocean Star
Rank Meter:
Type:
Passenger
Port of Registery:
Rotterdam
Operating Company:
Ocean Star Line
Specifications
Draft:
6.50m
Top Speed:
22 Knots
Length:
298.40m
Width:
36.10m
Appearances
Appearances:
Ship Simulator 2008 addon1, Ship Simulator 2008 New Horisons, Ship Simulator 2010, The Shipyard
Ocean Star is an add-on ship and may be featured as a normal ship in Ship Simulator 2010 according to the teaser. It is based on Carnivals Spirit Class ships. Large portions of her can be walked about, such as the pool and wheelhouse and top decks. She was a great popularity in Ship Simulator, as many people had waited for a cruise ship, and she was the only one available.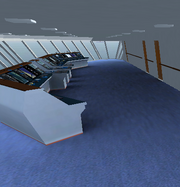 First appearance
Edit
The Ocean Star first appeared in the Ship Simulator 2006 add-on as the biggest ship in the game. It also then appeared in Ship Simulator 2008 add-on1 and in Ship Simulator New Horizons and finally in the Ship Simulator 2008 Collectors edition as it included New Horizons. As said above, it is almost confirmed that the Ocean Star will make a normal appearance (not in an add-on) in Ship Simulator 2010

Virtual Cruises
Edit
Since not having permission to model any Carnival ships, Ocean Star is a lookalike vessel under the control of the fictional cruise line Virtual cruises. On the stern of the ship, "Virtual cruises" is placed under the ships name. Virtual cruises is another virtual company in the game, along with ADF, which own the Vermaas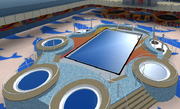 Like the Latitude, the Ocean Star encounters a similar occurrence regarding its distance model. When you travel away from the vessel, all the artistic hull paintings and drawings disappear, leaving a white cruise ship, this being its simpler distance model.