The Marbella Delight is a highly luxurious and fast yacht which can travel it far distances in small periods of time without a single minute of bore. During crossings, the owners of this yacht can watch tv, sleep in comfort, actually empty their bladder with comfort - all of these facilities which Vstep has modeled for the vessel.
First appearance
Edit
Marbella Delight is yet another playable add-on vessel which first appeared in the Ship Simulator 2006 add-on and carried on to the further add-ons released along with Ship Simulator 2008 add-on1, New Horizons and the collectors edition which includes New Horizons.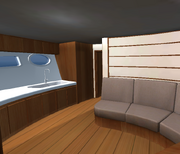 Publicity
Edit
Despite the ship being a quality modeled vessel, the Marbella Delight is rarely brought up as a subject on the Ship Simulator forums, which may be a good thing - there are no errors on the ship. The vessel is, however, a very fun one to drive, as Vstep have obviously spent lots of time on this vessel. Unlike other vessels, nearly every place aboard this yacht is walkable.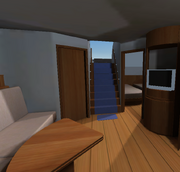 On this vessel, nearly everywhere is walkable. Or, more then needed is walkable. There are a few errors about the ship featuring walkabout, such as a door next to the staircase will not open, and sometimes the one inside the toilets will not open. Both these doors are ajar, however, giving you a sneak peek of what is inside. You cannot, also, walk everywhere inside the bedroom, only the entrance, for the ceiling gets too low after that.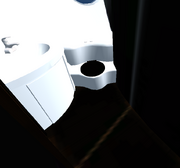 On mission editor, it is possible to see what is hidden behind these mysterious doors that will not open.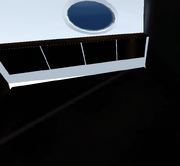 One of these rooms is a bathroom, while the other cannot be identified.