M/Y Esperanza
Edit
The M/Y Esperanza is a Greenpeace Ship in Ship Simulator Extremes. This ship is one of the newest Ship Additions to the Ship
M/Y Esperanza

ship type:
Greenpeace Anti-Whaling Vessel
Facts:
Full name:
M/Y Esperanza
Rank Meter:

Type:
Expedition/Research
Port of Registery:
Amsterdam, Neatherlands
Specifications
Draft:
4.7m
Top Speed:
15 knots
Length:
72.3m
Width:
14.3m
Appearances
Appearances:
Ship Simulator Extremes
Simulator Series! This Ship is also featured with the Billy Greene and the Rainbow Warrior III, two other greenpeace Ships!
First appearance
Edit
The First apperance of the M/Y Esperanza will be in Ship Simulator Extremes. This ship as well as the two others have brought media attention the the game! After being Sponsered by Vstep the ship will sail through Antarctica and Bora Bora. She is a Expedition/Research Vessel, She is a long Range Ship that takes expeditions up to 3 months at a time!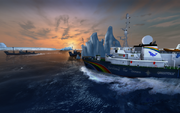 Built in Gdansk, Poland, in 1984 the Esperanza — one of 14 vessels commissioned by the Russian government — was used by the Russian Navy as a fire-fighting ship in Murmansk. At 236.2 feet, with a top speed of 15 knots, Esperanza is ideal for fast and long-range work, such as chasing the Japanese whaling fleet! It is equipped with a first-class communications system and its ice-class status makes it suitable for work in the polar regions.
Specifications
Edit
Port of registry: Amsterdam, Netherlands Former Name: Echo Fighter Date of charter: 2000 Number of berths: 33 Inflatable boats: 2 large rigid hull and 4 small inflatables Helicopter capable: Yes Type of ship: expedition/research Call sign: PD 6464 Built: 1984 Poland Gdansk Gross tonnage: 2076 BRT Length o.a: 72.3m Breadth: 14.3m Draught: 4.7m Maximum speed: 14 knots Main engines: 5.876 BHP, 2*2.938 BHP Sulzer V12 == The "Greenest" Ship ==
After chartering Esperanza in early 2002, Greenpeace spent many months refitting it to the highest possible environmental standards. First we removed and contained the asbestos onboard, then we added:
a more efficient diesel engines;
a waste-based heating system;
bilge water purifiers;
TBT-free hull paint;
ammonia-based refrigeration and air-conditioning;
and an environmentally and economically efficient propulsion system to reduce CO2 emissions.

Esperanza now sails as a proud example of a truly "green" ship!
In addition, standard Greenpeace operating equipment has also been fitted. A new helicopter deck has been added, as well as special boat cranes to launch the inflatables.