Fairmount Sherpa
ship type:
Anchor Handling tug
Facts:
Full name:
Fairmount Sherpa
Rank Meter:
Type:
Tug
Port of Registery:
Rotterdam
Operating Company:
Fairmount Marine
Vessel class:
Player Ship
Specifications
Draft:
5m
Top Speed:
16 Knots
Length:
75m
Width:
18m
Appearances
Appearances:
Ship Simulator 2008

Fairmount sherpa is one of the factual ships in Ship Simulator 2008. The Fairmount Sherpa is owned by the Fairmount Marine. They have many other ships like the Sherpa. She is very popular in Multiplayer.
First appearance
Edit
The Fairmount Sherpa appeared in Ship Simulator 2008 and brought great publicity to the game. Unlike the harbour tug, she could tow much more exiting (larger) things such as an oil rig. The Sherpa gained many fans in a short time.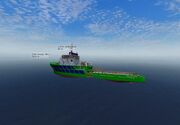 Dynamics
Edit
The Fairmount Sherpa has an overall length of 75.05 meters. Her depth is 8 meters and has a deadweight of 3,568 tonnes. She is powered with 2 CP Propellers which were made by Wartsilla and which have a diameter of 3,85 meters in nozzles. She has a bollard pull of 205 tonnes, a stern thruster and a bow thruster.